Bet at the casino. What is it?
Bet in a casino, is the price or value that a player must pay in order to spin the slot once. (Except for the bonus game and free spins). The cost of the bet is deducted from your total balance. In almost all slots from any manufacturer, the value of the bet can be changed from move to move. It starts from a few cents and ends in tens, and sometimes hundreds of euros per rotation. Accordingly, the gain is usually proportional to the bet, that is, the higher the bet in the casino - the greater the income. (True, not always :).
Online poker uses a different concept, and there it is called Buy in. That is, to play the tournament with the 1 $ buy-in, you need to buy a ticket for that price, and the cost of this ticket will be deducted from your total balance.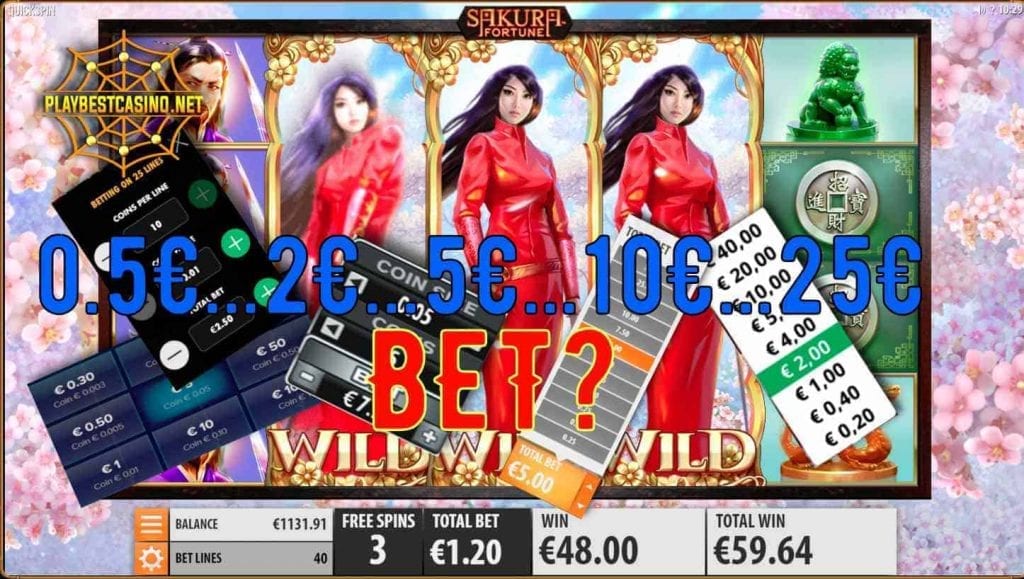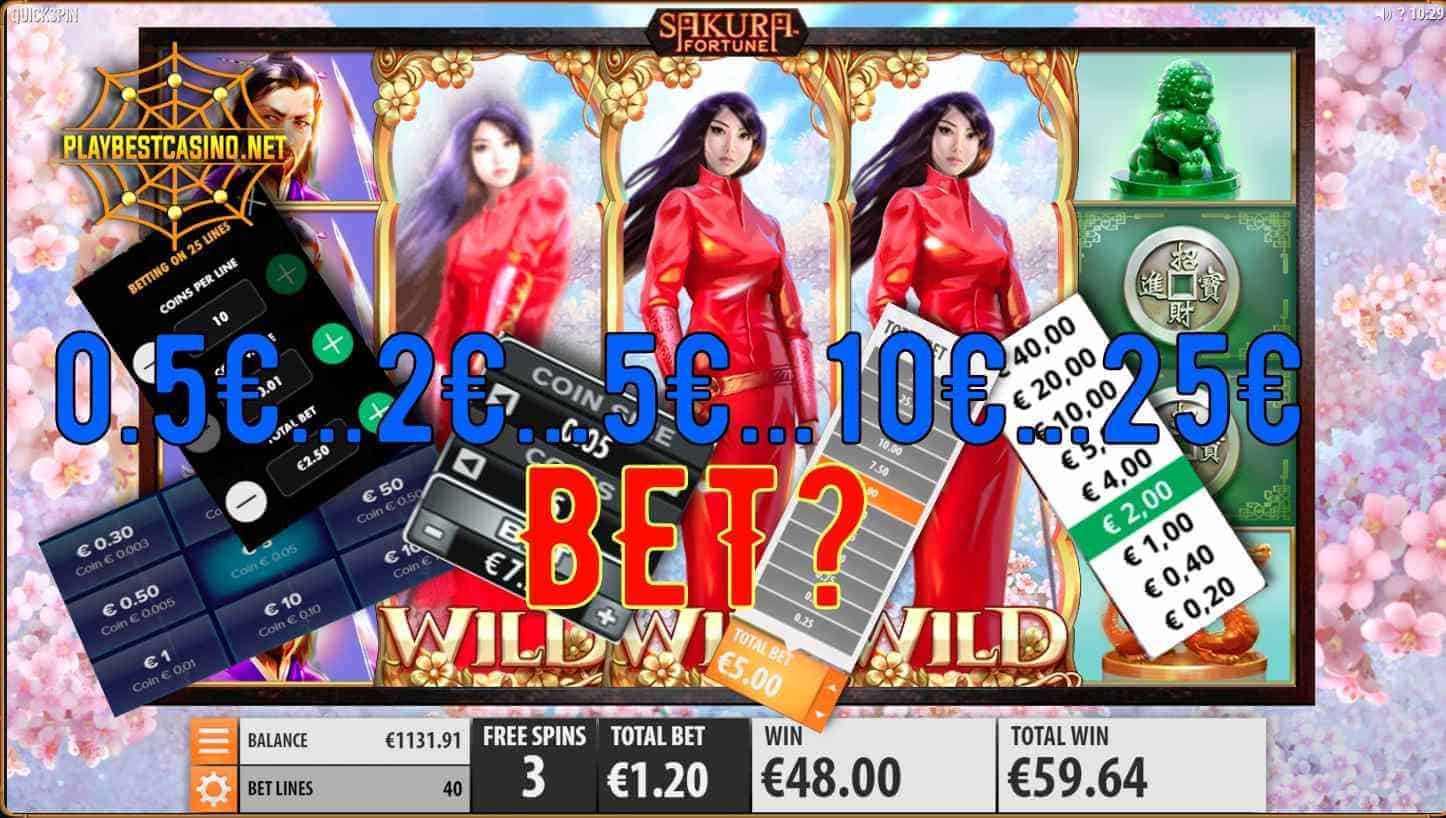 Explanation!
This post is based on purely personal observation and experience. And in no case can not be perceived as a call to action!
Bet (buy-in) in poker. Bankroll game.
When you play poker, and read the relevant literature, almost everywhere they insistently recommend playing on a bankroll.
Speaking in very simple terms, a bankroll is a stock of money that you are willing to spend on a game. Bankroll is stored in money, but is usually counted in buy-ins. And the bankroll, relative to the buy-in, must be large enough, and start from the 100 digit. This is the way the thematic manuals are recommended so that money is not pressed on you and the game is as comfortable as possible.
But from my personal experience in poker, I'll say that having 100 $ on your balance and playing 1 $ tournaments is a rather boring task and will not work for everyone. And what can you win in a tournament with an 1 $ buy-in? The same 100 $ for first place. Only at first you will lose half your bankroll, spend ten sleepless nights on this business and be in the black for $ 50 at best. In general, a so-so lesson.
Personally, I never had the patience to play at small bets, and I quickly ceased to comply with bankroll rules and switched to more expensive tournaments. The prize money and adrenaline there can be obtained disproportionately more.
Bet in the casino! When and for what play?
Based on my observations, I will say that there are 2 players in the casino.
Alone do casino deposit, even quite large, and begin to play at small bets over time, hoping to catch a good bonus game with multiplication from x1000. Thus, strictly observing bankroll management.
The second type of players (I myself belong to them) making a deposit, even the smallest one, starts to play at the rates that are more higher than the attitude to the bankroll. Or, having a certain amount on your balance, and starting to play for the "small" one, very quickly move to high stakes, hoping to get rich quickly.
So what is the best bet in a casino? Small or Large?
As I mentioned in my previous article, any game or slot in a casino has its own RTP.
And RTP slots will always be less than 100%.
That is, theoretically, if you make a deposit of 500 € euro, place a bet in 20 cents, turn on the automatic game mode and go for a walk, then after a certain time 0 will still be on the balance sheet. Yes, perhaps at times it will be at some time higher than the deposit, but if then the prize is not withdrawn, the result will always be the same. And imagine, making a deposit of 500 €, playing 20 cents, and catching a very good bonus game with a multiplication of a thousand from the bet (x1000), you will replenish the balance with only 200 €. And often you will not see such a bonus game. That is, playing small, you will hardly succeed in getting rich. So, have fun and only.
How I usually play. Personal experience with evidence, or how to raise 2000 € with bonus points, and 8000 € euro with a deposit in 300!
Over the years of 20 participation in gambling, there were many such stories .. But only recently I began to fix them.
In many casinos, during the game and the number of bets, you earn bonus points. Their number and replenishment rate depend on your status in the casino. With their help, you can either participate in various promotions, or simply exchange them for real money. The truth is to bring them immediately usually fail, because you need to play wager. But in such cases it happens, as a rule, small and it is played out quite easily.
The story took place in Goodwin casinowhere I already have a VIP player status and where every 100 000 points can be exchanged for 60 € with a wager of all x5.
And there were 2 ways. Either play at a small bet in any slot with a high return per spin, and withdraw, if lucky, the same euro 60. Either take a chance and play a slot with good but rare bonus games and at a rate that does not match the bankroll.
And of course, the second option was chosen. With the balance, 60 € began to play at 2,50 € per rotation of the game Geisha from Endorphina. Quite quickly I caught the bonus game and by the time the wager was wagered, there was already 220,70 € of net money in the account that could be withdrawn. But since the brain has not yet received its dose of hormones, a fairly simple decision was made to play on. And it is clear that not at 20 cents per rotation. I don't even remember the whole game chain, but I managed to stop and withdraw the amount of 2000 €. (Photo below).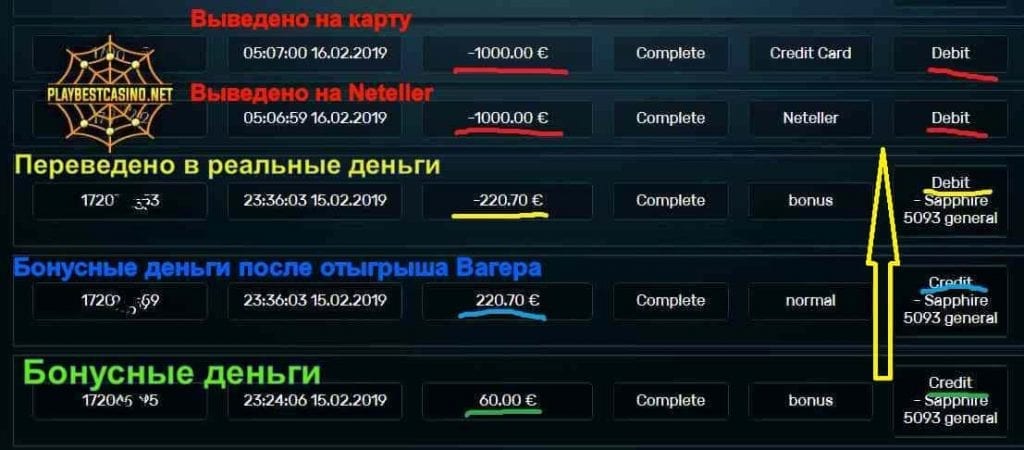 Now imagine if I played on 20 cents? Surely Wager would have played the same way, but the amount of bonus games hardly exceeded 20 euros, which would not suit me, and most likely, according to the rules of the DTA, everything would be lost.
I described this story in detail in a separate post. Separately, I want to pay attention to the balance and level of rates. The balance was 326 € euros, and the rate was equal to 10 €. That is, theoretically on 32 with half a rotation. Not at all about a bankroll :)) And after 5 minutes, more than 8000 € was already on the balance sheet. How it all happened, read below ...
As for me, the high-stakes game is much more profitable than the small ones!
After all, the chances of losing your balance to zero both there and there are absolutely the same. That is 50 / 50.
But to win a large amount the same chances are significantly different. After all, it's not for nothing that some casinos are afraid of such situations and limit the maximum bet in some slots.
Does anyone come up with 500 € in any game from Amatic, at a rate of 50 € per 10 spins will catch the bonus game with multiplication x1000 and the casino will have to look for 50 000 € for payment.
Good luck, big drifts and huge jackpots!
If you want to practice with different bets, free spins (no deposit bonus bonus), which give in some casinos for registration and verification. Perhaps you will catch the bonus game, and then step by step and 2000 € to withdraw.
Summary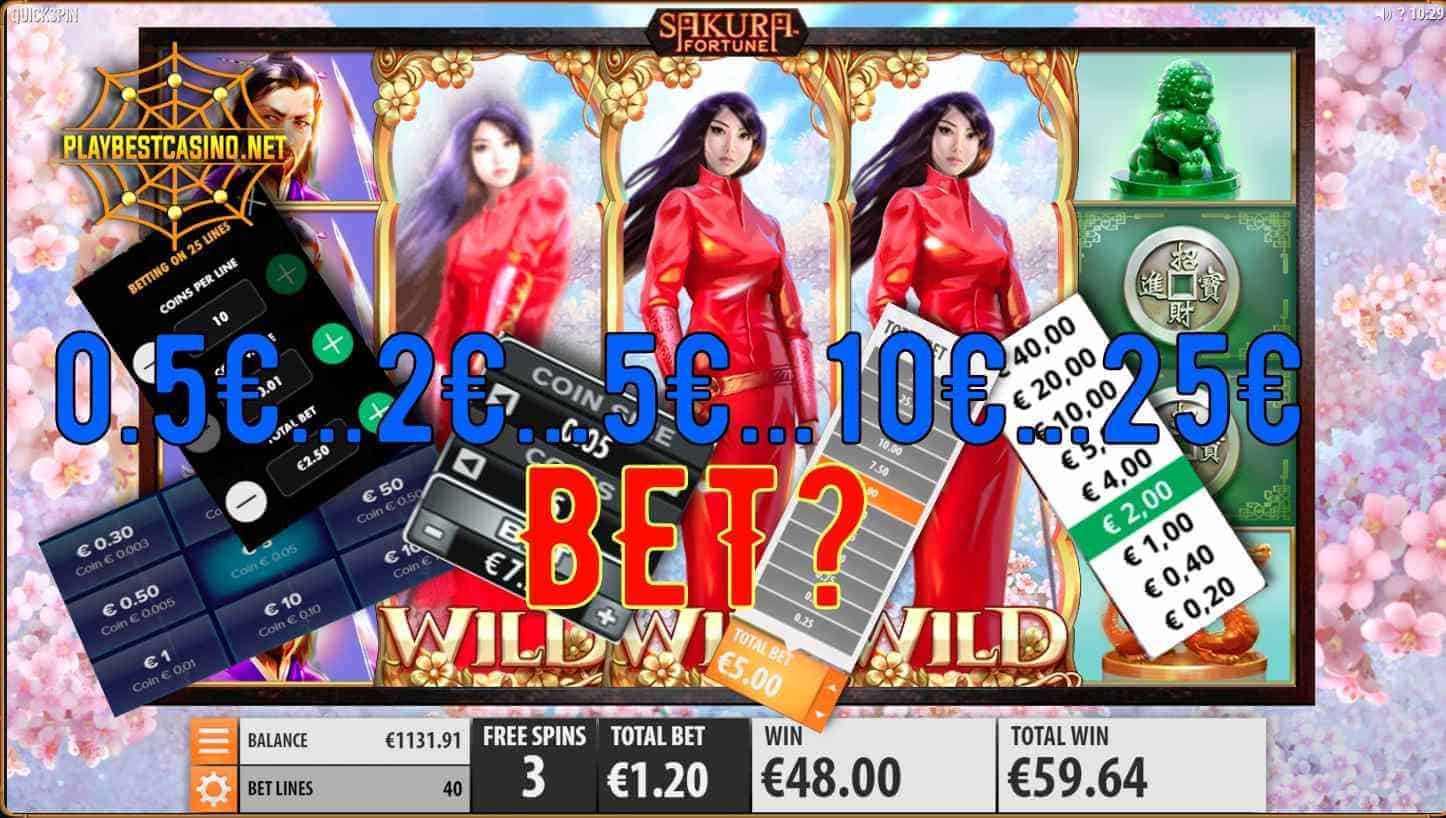 Article Name
Description
Explanation! This post is based on purely personalized personal observation and experience. Can not be perceived as a call to action! Bet. What is it? You must pay in order to ... Read more
Author
Publisher Name
Publisher Logo